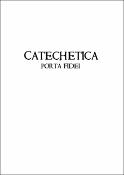 Authors
Abstract
Książka jest próbą odpowiedzi na wezwanie skierowane przez Benedykta XVI do wydziałów teologicznych, aby przed Rokiem Wiary pogłębić znajomość dokumentów II Soboru Watykańskiego i KKK. Opracowane zostały m.in. następujące tematy: realność i racjonalność wiary; apologia wiary w KKK, wkład teologii moralnej w katechetyczny przekaz wiary; świadectwo wiary w podzielonym chrześcijaństwie. Książka została opracowana przez wykładowców KUL i zaproszonych gości z UKSW i UPJPII.
The book is an attempt to respond to Pope Benedict XVI's call to theological faculties to deepen their knowledge of the documents of the Second Vatican Council and the CCC before the Year of Faith. Topics developed include: the reality and rationality of faith; the apologia of faith in the CCC; the contribution of moral theology to the catechetical transmission of faith; the witness of faith in a divided Christianity. The book was compiled by professors from the Catholic University of Lublin (KUL) and invited guests from UKSW and UPJP2.
Keywords
wiara
,
racjonalność
,
apologia
,
Katechizm Kościoła Katolickiego KKK
,
ekumenizm
,
katechizm Youcat
,
faith
,
rationality of faith
,
apologia
,
ecumenism
,
Catechesis of the Catholic Church CCC
,
Youcat catechism
Citation
Catechetica Porta Fidei, red. A. Kiciński, P. Goliszek, Lublin: Natan 2012, ss. 244.
Collections