Resistenza e resilienza in Cipriano di Cartagine e Gregorio di Nazianzo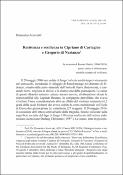 Authors
Abstract
Come sottolineano Clemens Sedmak e Małgorzata Bogaczyk-Vormayr nella loro introduzione a Patristik und Resilienz (Berlin 2012), la resilienza umana deve essere intesa come la capacità di cambiare sé stessi in risposta a una crisi, non già di tornare a un punto di partenza (Einleitung, 3). Dopo una parte introduttiva sui diversi significati e aspetti della resilienza, questo articolo discute alcuni testi di Cipriano di Cartagine (De mortalitate, Ad Demetrianum, De bono patientiae, De dominica oratione) e Gregorio di Nazianzo (Or. 26, Ep. 223, 30-36, 92) che possono essere di qualche interesse per l'attuale discussione sulla resilienza. Entrambi gli autori, infatti, partendo dalla medesima prospettiva escatologica, sembrano condividere una dinamica nozione di resilienza, che non è una mera sopportazione delle avversità, ma la capacità di trasformare una situazione negativa in una risorsa esistenziale.
As Clemens Sedmak and Małgorzata Bogaczyk-Vormayr point out in their introduction to Patristik und Resilienz (Berlin 2012), human resilience must be understood as the ability to change oneself in response to a crisis, and not to return to a starting point (Einleitung, 3). After an introductory part on the different meanings and aspects of resilience, this paper discusses some texts by Cyprian of Carthage (De mortalitate, Ad Demetrianum, De bono patientiae, De dominica oratione) and Gregory of Nazianzus (Or. 26, Ep. 223, 30-36, 92) that may be of some interest for the current discussion on resilience. Indeed, starting from the same eschatological perspective, both authors seem to share a dynamic notion of resilience, which is not a mere endurance of the adversity, but the ability to transform a negative situation into an existential resource.
Description
L'articolo è la rielaborazione della relazione "Verso una definizione di resilienza religiosa negli autori cristiani: Cipriano di Cartagine, Gregorio di Nazianzo e Gregorio di Nissa di fronte alle avversità", tenuta il 1° settembre 2021 alla 18th Annual Conference of the European Association for the Study of Religions, IAHR Regional Conference, Pisa, 30 agosto-3 settembre 2021, dedicata al tema "Resilient Religion".
Keywords
resilienza
,
resistenza
,
Bibbia
,
Patristica
,
peste
,
escatologia
,
Cipriano di Cartagine
,
Gregorio di Nazianzo
,
San Tommaso d'Aquino
,
Tertulliano
,
Filagrio
,
resilience
,
plague
,
Cyprian of Carthage
,
Gregory of Nazianzus
,
endurance
,
Bible
,
Patristic
,
Eschatology
,
Saint Thomas Aquinas
,
Tertullian
,
Philagrius
Citation
"Vox Patrum", 2022, T. 83, s. 109-140